Brighten your day with some self-care.
Managing our mental health and wellbeing during difficult times is extremely important to our overall health. There is no one-size-fits-all formula for healing the soul. Below are links to give you ideas on how to stay healthy on the inside.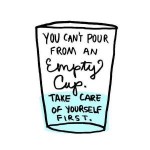 Smiling Minds – this is a special initiative to help you stay calm and healthy in the physical constraints of your home, while remaining calm and healthy inside your mind.
The Importance of Self-Care to win the race with COVID-19
Taking care of yourself is the most important part of managing your mental health and wellbeing – Beyond Blue have a multitude of articles on self-care.