Palliative Care Australia has launched the Self-Care Matters resource, which aims to support anyone working or volunteering in palliative care to prevent burnout and build resilience. Planning and practising effective self-care strategies can help you to maintain or improve your physical, social and mental wellbeing.
Managing our mental health and wellbeing during difficult times is extremely important to our overall health. There is no one-size-fits-all formula for healing the soul. Below are links to give you ideas on how to stay healthy on the inside.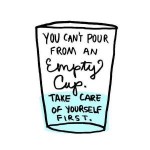 Smiling Minds – this is a special initiative to help you stay calm and healthy in the physical constraints of your home, while remaining calm and healthy inside your mind.
The Importance of Self-Care to win the race with COVID-19
Taking care of yourself is the most important part of managing your mental health and wellbeing – Beyond Blue have a multitude of articles on self-care.