Why do we need to start a conversation with our loved ones?
Planning ahead is thinking about your future, and putting things in place so that your choices will be known and acted on if you cannot express these choices yourself later in life. Here you can access some excellent links to learn more about how to have the conversation and why we should start2talk.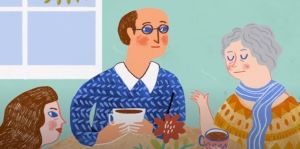 Most of us would prefer not to think about becoming unwell or developing dementia, but it is important to have plans in place in case we do.
To find out more click any of these links:

Start2Talk - Dementia Australia
Start the Conversation – Department of Health
The Conversation Project
Dying Matters
COVID-19 Critical Conversations for Health Professionals 
Dying2Learn 2020 a place to start the conversation – this is a free online course where people can learn, discuss and share views about death and dying. Click here for resources that were used in the 2020 Dying2Learn course.
"48 Wishes Statements" – a great tool for understanding peoples values and preferences.