The Grampians Region Palliative Care Consortium, engaged the services of Uniting Ballarat who provided a project worker to develop a sustainable model that would build capacity of disability residential services staff in the Grampians region, in order to provide a Palliative Approach to residents in their care.  Broad aims of the project were:
Building skills and confidence of disability staff to provide a palliative approach as part of their everyday work
Developing consistency of palliative care in disability residential services
Encouraging disability residential services to implement advance care planning and end of life care for residents in their care.
People living in disability residential services are supported to be cared for and die in their place of choice.
The project model is ready to commence a trial with Disability Residential Services when a resident requires a palliative approach to care, and includes the following documents: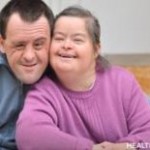 Partnership Agreement – between Disability Residential Service Provider and Specialist Palliative Care Service
More information for Disability Residential Services staff see also:
Easy English Resources - This series of downloadable resources includes images to help the reader. Originally developed for people with an intellectual disability they are suitable for anyone seeking easy-to-understand information.
Talking End of Life …..with people with intellectual disability – this is an online toolkit with training modules for disability support workers, families, carers, health professionals and educators.